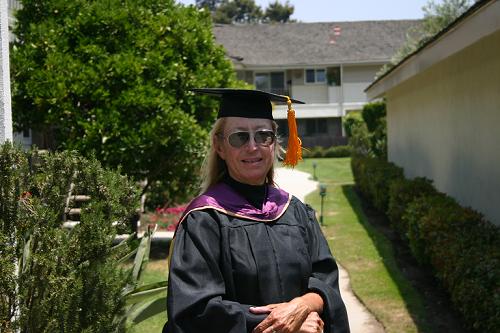 Phone contact: 310-720-0174

Email: Joey2276@aol.com


Which prep courses (if any) should I take?
What should I expect?
How should I study for each exam?
How much time should I allocate to stuyding and what should I focus on?
What is the difference between someone who passes and fails?

I could go on and on; there are many questions one should ask before embarking on the journey to pass the CPA exam. Helene has the answers. She passed it, she wrote hundreds of questions for it; and she has tutored and coached hundreds of students in both CPA exam prep and in all of the undergraduate accounting courses. Your two hours with her will be one of the best investments you'll ever make.

Helene is first and foremost a CPA tutor and consultant. She lives and tutors CPA prep in the Los Angeles area and will do skype tutoring with anyone with access to a computer.

Having passed all 4 parts of the CPA exam on her first try, and having written over 300 questions for the CPA exam for the AICPA, there are few who can match her credentials as a CPA consultant and instructor.

Helene began as a tutor for the CPA exam, but after many years of doing this (and teaching at Marymount College in Palos Verdes) she has recently found that the most effective way she can help aspiring accountants is through 2 hour consultaions. The CPA exam has such a large volume of matertial one must assimilate to do well, it was frustrating for her as a CPA exam tutor in Los Angeles or via skype any time a student didn't have vast amounts of time and money. As a result she has developed a 2 hour course in how to approach the exam, including tactics, time management, inside tips on what types of questions to focus on, and an individualized and tailored approach with each of her students. If a CPA exam student wishes he/she can do more than a 2 hour consulation with Helene; but many find this amount of time to be ideal to answer their questions and to help them with finding direction in their pursuit of the passing of the four exams.

Helene is also availabe for in home tutor lessons for Intermediate Accounting, Financial Accounting, Managerial Accounting in the cities of Torrance, Palos Verdes, Rolling Hills, Redondo and Manhattan Beach. She is also available to tutor these courses via skype if you are in a different geographical area.

Rate: For CPA consulting via skype or in person $160 for 2 hours. For accounting tutoring in the Redondo Beach & Torrance areas her rate is $50 per hour.

With Skype Helene can tutor and give online CPA and accounting tutoring lessons to virtually anyone in the English speaking world. She lives in the Los Angeles city of Redondo Beach and in addition to in person tutoring gives intermediate accounting, financial accounting, managerial accounting, and CPA prep tutoring lessons to those in such diverse cities as Orange County CA, San Fernando Valley CA, Chicago, New York, Houston, Phoenix, Philadelphia, Dallas, San Fransisco, Boston, Denver, and many more.

One could not ask for a more highly credentialed person to tutor college accounting courses and the prep for the CPA exam.....she has written over 300 questions for the AICPA (the company that makes the CPA exams) over the last 16 years. In addition to her sterling credentials she also has a great personality for tutoring, including plenty of patience, a gentle, friendly, and motivational demeanor, and most importantly a great ability to adapt to each student's unique needs to find an ideal strategy for him or her to pass all four parts of the exam.

Having been a straight A student through her college career she also knows what it takes to do well on those difficult college accounting courses.



*Tutoring experience*
CSUDH peer tutor 1996-1997 (accounting and math).
private accounting tutor from 1998 to 2002.
"Professional Tutors of America" employee: 2001-2002.
Private Tutor: 2002 to present.


*Teaching experience*

Helene has been a full time professor on both the accounting and math faculties at Marymount College from 2002 to 2012. As of 2014 she has retired from her college faculty and now does CPA consulting full time.


*CPA & education misc*

Passed all 4 parts of the CPA exam in November of 1997.
CPA certified in 1998
Member AICPA (American Institute of Certified Public Accountants)...1998
Paid to write questions for the CPA exam....as of this writing she has written over 300 questions for the AICPA between 2000 and 2006.
Graduated magna cum laude (3.8 GPA) from CSUDH with a bachelors degree in Business Administration (accounting concentration) in 1997.
Got her MBA from CSUDH in 2000.
Selected Student of the year at CSUDH by the Institute of management accountants (1996)
Member of Delta Mu Delta (National Honor society for busines administration (1995))
Spring 2006: taught "Introduction to accounting 2" from spring 2004 to present. This class essenitally focuses on subjects which will be on the CPA exam.
In Helene's own words....

"I was born in a lower middleclass neighborhood in the Bronx, New York in 1950. I did not have the opportunity to go to college when I was young due to financial restraints. In 1973 I married, and for the next fifteen years I was a housewife and mother. When my husband and I divorced in 1989, I went to look for work and found that I had no marketable job skills. At age 42, I knew that it was time for me to do what I never had the chance to do when I was younger; it was time for me to go to college.

I started at El Camino Community College in Torrance California, and transferred to California State University Dominguez Hills were I received my BS in Business Administration with an accounting concentration in May 1997, graduating Magna Cum Laude. I was very fortunate to have had a professor at CSUDH who really cared about me and all of his students, and who encouraged and motivated me to do great things. My professor convinced me that I could sit for and pass all four parts of the CPA exam and in November 1997 to my astonishment I did just that. It was my professor who made me realize what I wanted to do with the rest of my life; that was to teach, and to do it as well as he did.

I received my MBA degree (General Management concentration) from CSUDH in May of 2000 and today I am a full-time accounting instructor at Marymount College Palos Verdes. In my spare time I tutor students preparing for the CPA exam and for the past four years I have been a paid question writer writing over 300 multiple choice as well as essay questions which have been accepted by the AICPA which will appear on future exams.

In 1992, I had no college education, and today I'm an MBA/CPA assistant professor of accounting. I am a success story, and I want you as my students to know that if you work hard, you too can be a success story. As my professor told me, 'You will get out of your education what you put into it'. I will do my best to help you in any way I can."

For more info or to set up an inital lesson with Helene please call during business hours or email anytime.

Phone: 310-720-0174

Email: Joey2276@aol.com