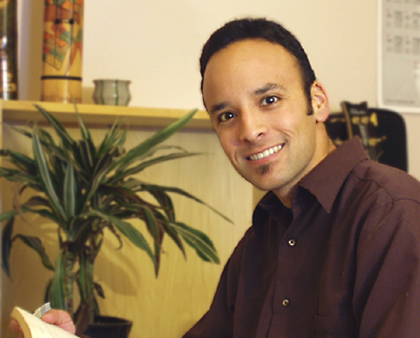 Victor is available to tutor all sections of the SAT for the cities of Palos Verdes, Rolling Hills, Torrance, and Redondo & Manhattan Beach. It is no exaggeration to say he is the one of the top SAT tutors in the country.

Around 6 years ago he set out on his own to do one on one tutoring. The training he recieved from top level companies came in very handy, but was also lacking in some ways. He took what he felt was usefull from his training and then added his own technique and style. He has gone on to hone it over the last five years. He has been with my network for all of those 5 years, and what has been most amazing to see is that every single family I've matched him up with has been very happy with the results. In 5 years there hasn't been one negative report.

His credentials and academic highlights follow in lists below. Suffice to say that aside from a complete knowledge of the SAT (he knows every math and reading comprehension problem that comes his way) his real genius is in his ability to adapt to each student and figure out what they need to do to accomplish their goals. This is the key to a great SAT specialist as there are so many variables that go into preparing a student for this test....the intelligence of the student, her work ethic, the time until the test, the budget of the family....Victor will work with all of these variables and come up with a plan; and if your student has a few months left to study he can do amazing things with that time to help the student to get a great score.

Victor has programs for students based on how many hours they want for tutoring time. These include a 4 hour, 8 hour, 12 hour, 20 hour, and weekly session plan.

SAT or ACT? One service Victor provides is to sit down with a student and help them figure out if they are better off taking the SAT or the ACT. Many things factor into this decision, such as the colleges being applied to and if the student is natually better with ACT or with SAT questions.

Victor also provides an SAT & ACT workbook for the students he works with, which includes a binder with strategies, full practice tests, and worksheets.

4 hour crash courses are available, as are small group discounts. If you can get 3 or 4 students together he can meet them at the library or one of their homes. This is a great way for all of the students to save money and increase the amount of time and energy on the material. Studying with one's peers also has other beneficial effects.


Main Credentials:
Trained by top tier companies such as The Princeton Review in SAT prep.
Trained several other SAT prep tutors in the past 5 years.
Completed the National Tutoring Association training and certification course at El Camino College.
Developed and taught training seminars for Shamrock Tutoring in Torrance.
Has tutored hundreds of students in one on one or group settings for over 10 years.
EDUCATION & HIGHLIGHTS


taught semester-long SAT classes for other tutoring companies. I also teach film production through CreatorUp, drawing from my experience as a professional writer and producer of award-winning media.
Students have earned admission to competitive universities such as Stanford, UC Berkeley, Carnegie Mellon, and Boston College. His pupils have also earned scholarships to play NCAA softball, crew, sailing, and volleyball.
Partnered up with financial aid planning colleagues to help families qualify for more aid and grants than they would normally be able to earn.
Available for video call with face time or Skype for a discounted rate. Teaches small groups of 2-4 students at special rates.
California State University, Dominguez Hills: B.S. Business Finance candidate,
Biology minor El Camino College,
Torrance: A.S. General Science
Recipient: Thomas Riddle Scholarship
For Natural Sciences; Foundation Donors Scholar
University of California, Los Angeles: English Literature & Film Studies Member of Alpha Lambda Delta Honor Society
West High School, Torrance: 1995 Academic Decathlon member, 2nd place in California, L.A. County Champions National Merit Scholar (based upon PSAT scores)


Rate Contact us to get in touch with Victor.

To learn more about Victor or to set up a trial lesson please call during busines hours any day of the week or email any time.

310-720-0174; Joey2276@aol.com

Thank you.